Are you looking for a quick upcycling project? Serving trays are perfect for breakfast in bed, or drinks in the garden. update an old serving tray with this DIY project. I picked up this rather unpromising second-hand serving tray, perfect for an upcycling project with chalk paint and wallpaper sample.


Check out these fabulous chalk paint projects:-
Update a wicker basket with spray chalk paint.
Upcycle a drawer into a wall shelf
DIY Serving Tray
This post contains Amazon affiliate links for your convenience. Click here to see my disclosure policy.
RECOMMENDED SUPPLIES:
Old tray
Wall Paper sample (this one is from the store the Range)
PVA glue
Roller
Chalk Paint Sample Pot (I changed through the project to Ingilbys Chalk Coat)
Paint Brush
Wax and cloth
Cleaning cloth and cleaning fluid

Find a full video tutorial here.
Take apart the tray.
Thoroughly clean it, I used sugar soap. Any grease or dirt will show through the chalk paint.
Paint the wood sides with chalk paint, it is best to do two thin layers rather than one thick one.
For the base of the tray mix a little water with PVA.
Roll out the glue across the base being careful to have an even coverage across the base, especially the edges. Carefully place the wallpaper sample over and smooth out to ensure there are no air bubbles.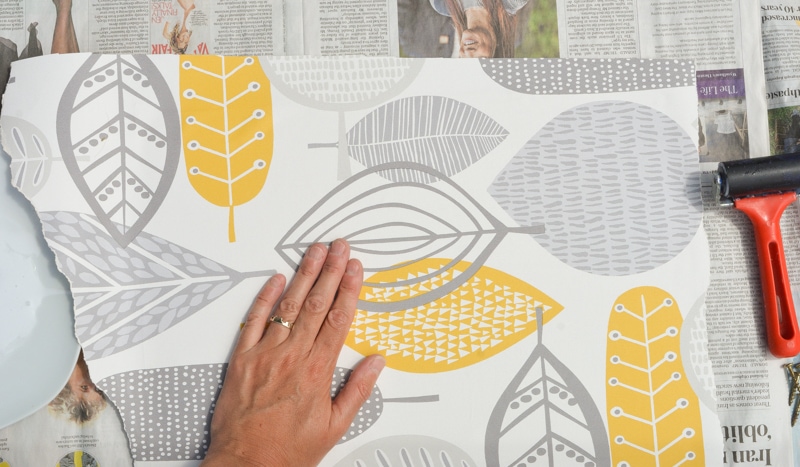 Paint a layer of the glue/water mixture over the wallpaper, set aside to fully dry.
Once dry turn over, running a craft knife around the edge to trim the wallpaper to the exact size of the base.
Reassemble your tray.
Apply a thin coat of wax to your chalk paint. this adds a layer of protection.