Summer is here so it is time to make the most of our outdoor space, to eat al fresco as frequently as possible. As an untidy person, I am often surrounded by clutter but I aspire to beautiful decor, a clear table beautifully laid. Today I am sharing with you how to sew a table runner and coordinating table mats. These are dyed shibori style. With such beautiful tableware, I trust I will be inspired to be tidy!!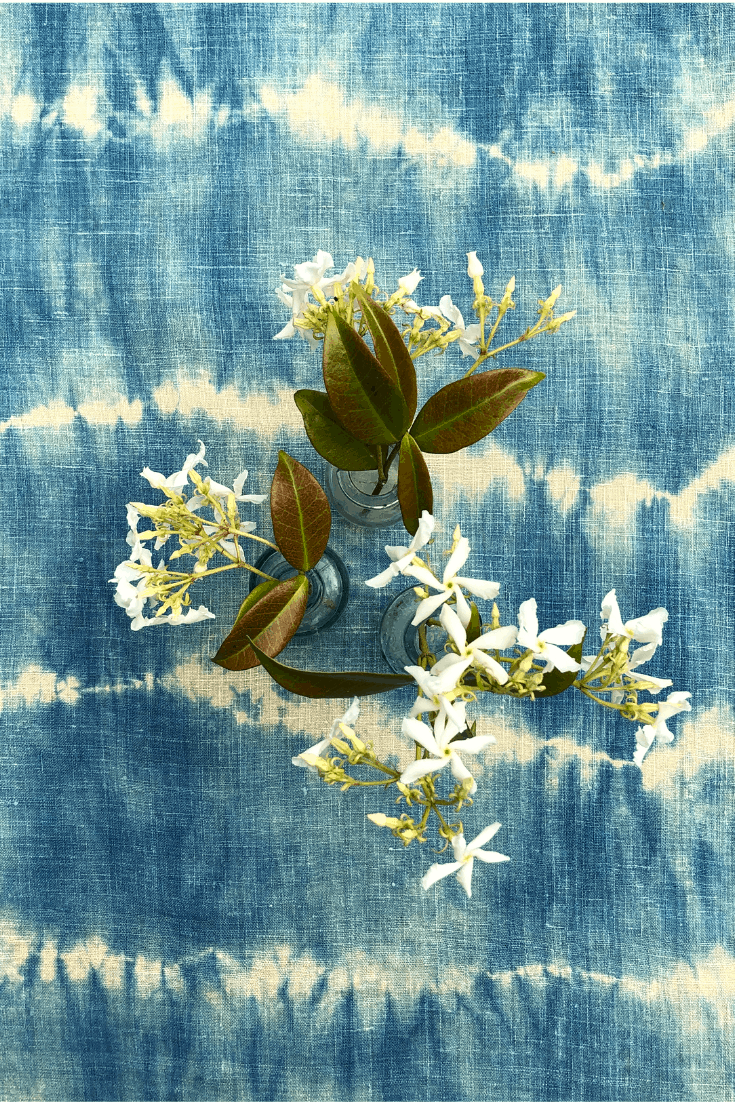 Shibori is a Japanese method of folding and pleating fabric, then dying with indigo. I have used this indigo dye kit which includes the dye, rubber gloves, rubber bands and detailed instructions, including suggestions with diagrams for how to fold the fabric.
If you want more shibori inspiration check out these posts!
Shibori inspired denim heart pencil cases
Shibori inspired denim large floor cushion


Wondering what size to make your table runner and placemats?
Start with measuring your table. Your table runner should be approximately one-third the width of your table and allow for 6 inches to hang over each end. As a guide standard table runners come in widths from 10 to 15 inches wide. I have used a table mat as a guide, my finished tablemats are 15 1/2″ by 12″, do not forget to add seam allowance.
Subscribe to my fortnightly newsletter and gain access to my free pattern resource library.
[mailerlite_form form_id=3]
How to make a Shibori Table Runner
This post contains Amazon affiliate links for your convenience. Click here to see my disclosure policy.
RECOMMENDED SUPPLIES:
A natural fabric which has been washed with no fabric softener (so that it absorbs the dye). I used a table cloth found in a thrift store
Lining Fabric
Scissors
Sewing machine
If you prefer video tutorials check out my how to sew a table runner you tube video.
Start by cutting your table runner to size (see above for guidance), if you are making table mats to match cut these out too.
Using a simple running stitch gather the width of your table runner, I gathered mine approximately every 10″. Tie the gathers together tightly using string.
For the table mats, I folded them in half and half again to work out the center, then holding the center I let the fabric fold downwards, then placing a rubber band around in two places.
Follow the instructions in your dye kit to make up your dye, I had to set mine aside for half an hour. Soak your folded and tied fabrics.
Place your fabric into the dye vat, holding the fabric so it does not touch the sediment at the bottom of the bucket. The longer you hold it in the dye the stronger the colour. I am impatient so only kept it in a few minutes. Remove from the bucket and expose to daylight, you will see your fabric gradually change colour. After twenty minutes untie, wash gently, rinse and hang out to dry.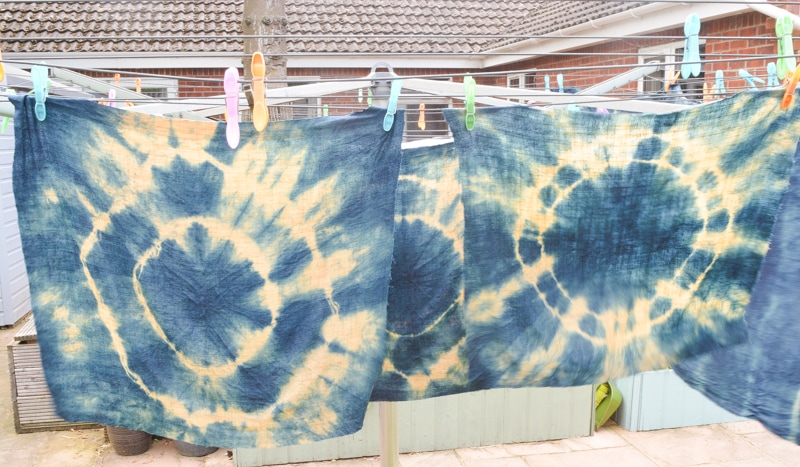 Cut your lining to size. Iron your fabrics. As my table runner fabric feels soft, possibly a mixture of linen and silk I used spray starch when ironing.
Placing the wrong sides together pin your lining and table runner dyed fabric together.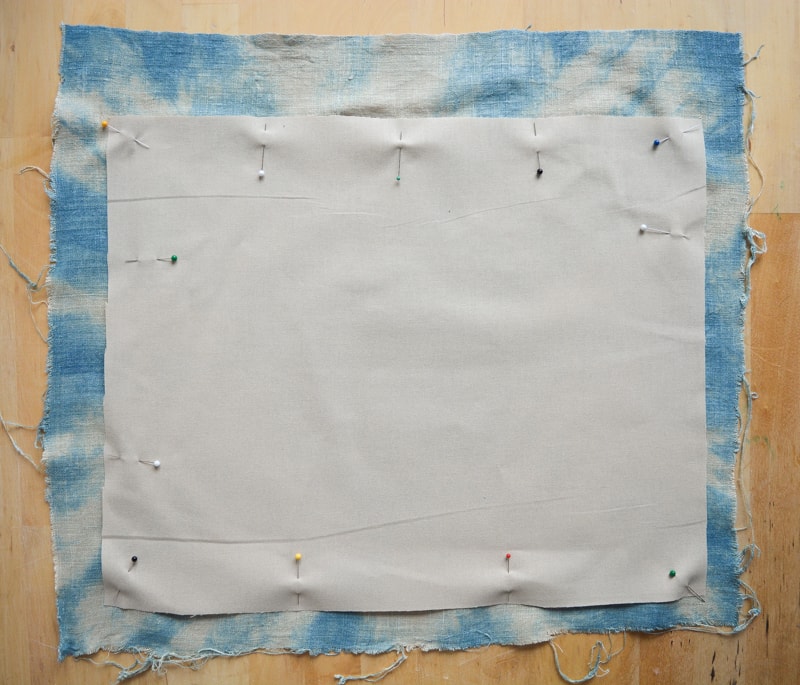 Stitch all around, leaving a turning gap of 6 inches.
Trim the corners (being careful not to cut into the stitches) then turn right side out.
Press the 6inch turning gap fabric inwards.
To finish your table matt and table runner you have three choices:-
Ladder stitch the gap to close.
Top stitch all around.
Use hemming tape to iron the gap shut
To ladder stitch take your needle in and out directly opposite, slide the needle along inside the fabric. Check out this ladder sitch video.
To stop stitch, stitch around the edge of the table runner.
Or use hemming tape, place between the two folded layers and iron to glue the gap shut.
Personally, I like the effect of the topstitching.
Now I have such beautiful tableware I feel the need to cook a special meal and enjoy the beautiful table.
Check out how to tie dye for more patterns to try.