My daughter loves swimming, she has been eyeing up bathing suit cover up dresses in the shop but they are expensive, flimsy and don't seem quite long enough. Time to make her her own DIY beach cover up dress. It is super easy to do, taking less than an hour and some pretty cotton fabric.
I have used an existing dress as the basis for a self-drafted pattern, with a sheet for the fabric. This adorable fabric is a king size fitted sheet from Primark.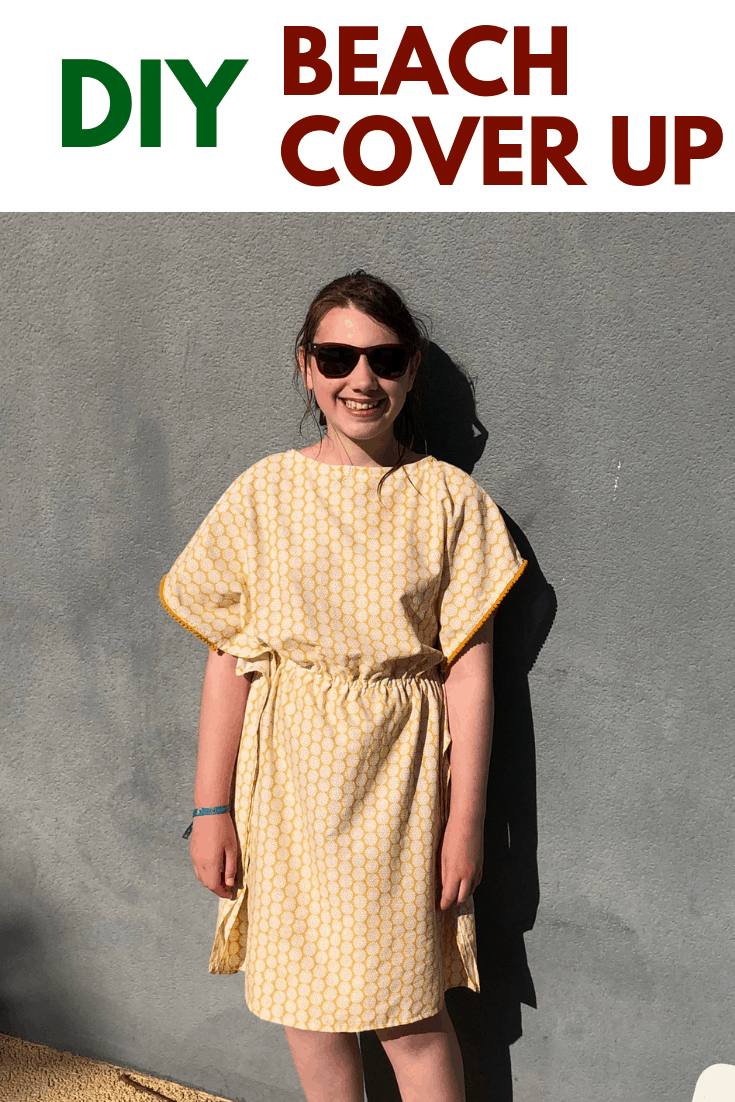 As a family we love holidaying in southern France, staying on a caravan site, going for walks along the coast, swimming in the pool. Back this evening from our family holidays I struggled to take good pictures in the bright sunlight.
Naturally, all she was concerned about was did the DIY beach cover-up dress work for her?!
Sign up for my newsletter for fortnightly updates with lots of sewing and DIY projects.
[mailerlite_form form_id=3]
DIY bathing suit cover up dress
This post contains Amazon affiliate links for your convenience. Click here to see my disclosure policy.
RECOMMENDED SUPPLIES:
Dress from your wardrobe as a guide
Cotton bed Sheet
Elastic
Bias binding 2 meters
Start by laying out your dress over two layers of fabric.
Cut your bathing suit cover up to the length you require – I have cut a little longer than the dress as a template, and three inches wider – forming a rectangle as a starting point.
Cut your neckline, using your dress as a template (don't forget to include seam allowance!)
Turn the fabric right sides together and sew your shoulder seams.
For the sides, turn over the raw edge, press, fold again enclosing the raw edge and sew.
Repeat for the hem.
Next pin bias binding around the right side of the neckline, stitch.
Turn the bias binding to the wrong side and press. Pin and stitch to secure in place.
Turn the wrong side out. Measure down from the shoulder seams. For my 12 year old daughter, I have measured 16″. Place bias binding across the waist, starting and stopping three inches short either side (remember you cut your fabric 3″ wider than your template dress). Stitch in place, repeat for the second side of the dress.
Turn the dress right side out.
Pin, tack and then stitch in place pom pom trim around the armhole openings.
Stitch the side seams, 3″ in from the edge, I used the template dress to estimate the armhole width.
Turn the dress wrong side out and thread elastic through your bias binding, I find a safety pin a handy tool for this.
Tighten the elastic to the desired width and secure with hand stitching.
If you love sewing for summer as much as I do check out my water-resistant picnic rug, sandwich wrap bags, and my beach bag which includes a zip pocket (I have a dread of losing car keys in the sand somewhere!!)