Are you new to bag making? Wondering where to start? Here are my top tips for bag making, perfect to get you started in this exciting sewing journey. You will soon be whipping up new bags for every occasion.
I was fortunate to learn to sew at school (sadly a subject that seems rarely taught nowadays). Quite a few years later my husband bought me a book all about bag making, and all of a sudden I was hooked! My love for bag making reconnected me with sewing – what an amazing gift he gave me. Since then I have made a LOT of bags, let me share with you many of the tips I have learned.


If you are new to bag making check out my ebook Bag Making for Beginners. With five reference chapters covering essential bag making skills hone your skills with eight bag patterns.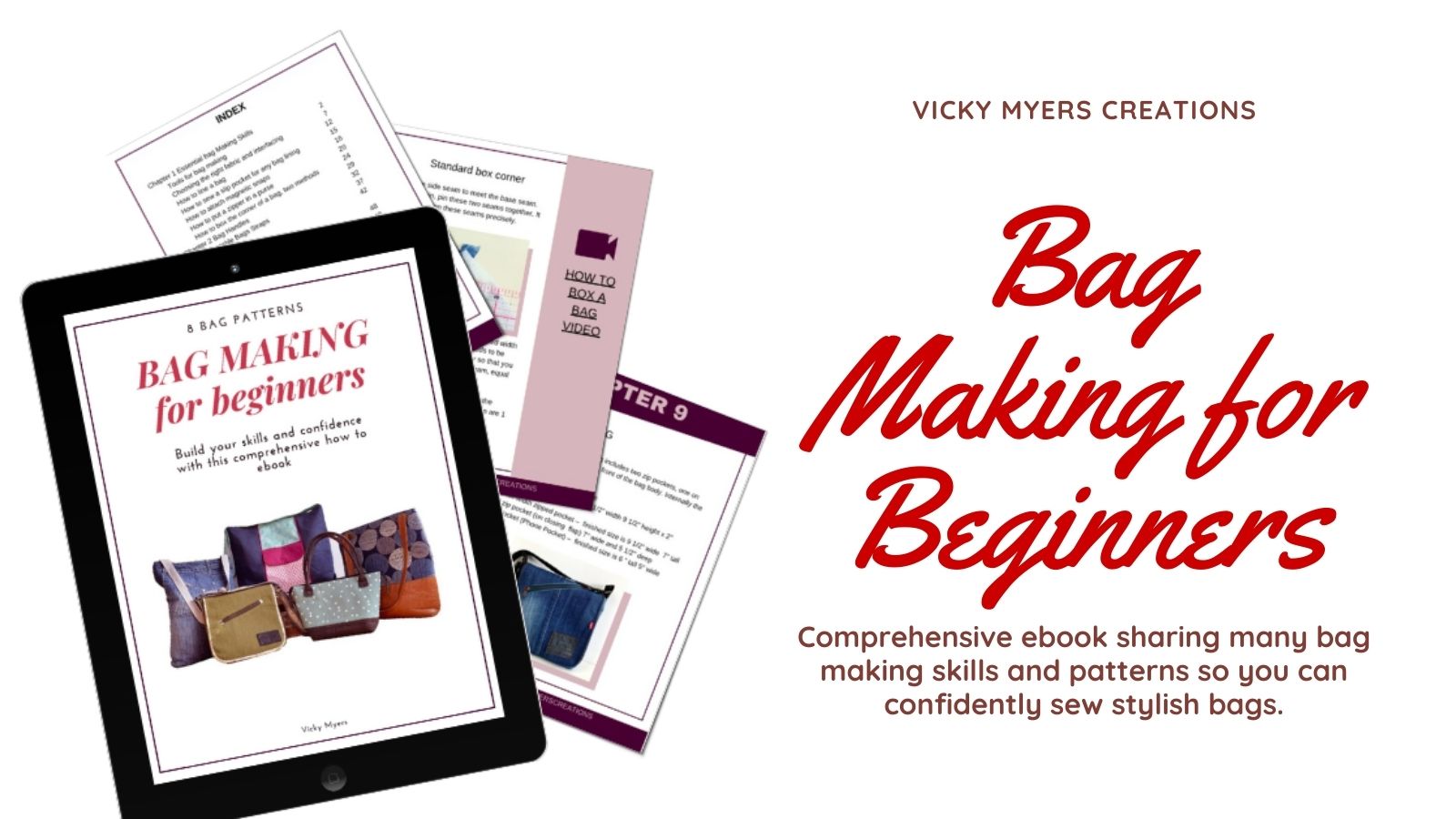 Top Tips For Bag Making
Read the instructions
This enables you to check you have all the bag supplies you need – nothing worse than starting sewing and realizing you have it stop and pop to the shop, or even worse place an order online and wait for delivery!!! It also gives you an idea to know all the steps involved, personally I like to sew bags in steps – a bit at a time. Sometimes in more complex patterns, I might not understand how it comes together from the first read through, if this happens to you don't let it put you off – follow the instructions a step at a time and the bag will come together.
Select your fabric
Choose a tightly woven fabric for your bag, jersey and knit fabric are not generally suitable. Personally I love working with denim, curtain and upholstery fabrics also work well, but so do quilting fabrics with good interfacing such as fusible fleece or Decovil Light. There is a wide range of stiffeners available to choose from. The choice of interfacing will impact the end result, check my video demonstrating the same bg made with heavy interfacing, fusible fleece and decovil light.
Measure, measure, measure
Some bag patterns come with pattern pieces to cut out, or to print on your home computer. If printing at home print to actual size and double-check the square provided to check print size measures accurately. Check out my video for how to tape together pattern pieces.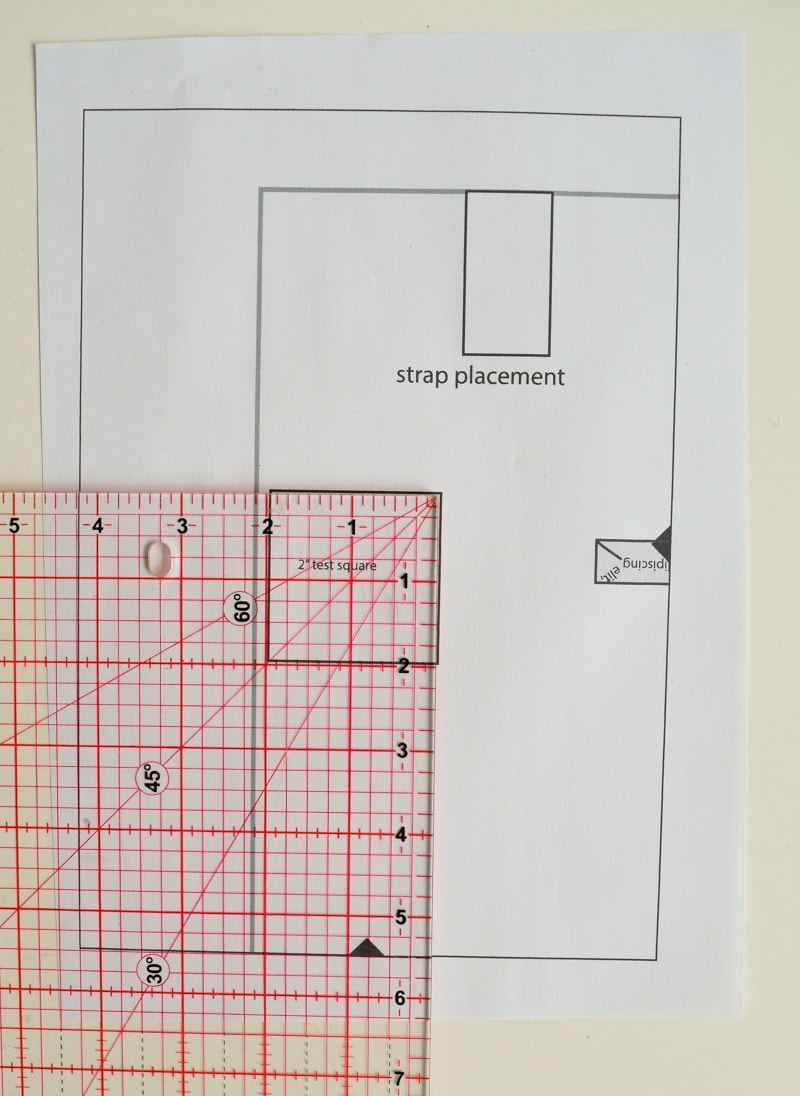 If are measuring pieces yourself use a quilters ruler. This enables you to easily measure right angles, I love how the rulers are transparent so you can easily see what you are doing.
Sewing Machine Needles
The choice of needle will be dependant upont he fabrics and interfacing you have chosen to work with. I regularly sew denim and find denim needles invaluable – I also use these needles when I have bulky fabric to stitch through. If you are using leather you will benefit from a leather needle. If your machine skips stitches it can be worth changing needle as yours may have become blunt.
Sewing machine feet
Both a walking foot and a zipper foot are extremely useful. The zipper foot does what it says, helps you sew close to the edge of the zip, its also super helpful for sewing piping.
A walking foot is fabulous for feeding the top and bottom fabric evenly through your machine, it is great for thick layers of fabric. It can be a bit noisy, but in the scheme of things this doesn't matter. My sewing machine can cope with thicker layers of fabric when using a walking foot than it can with a standard foot.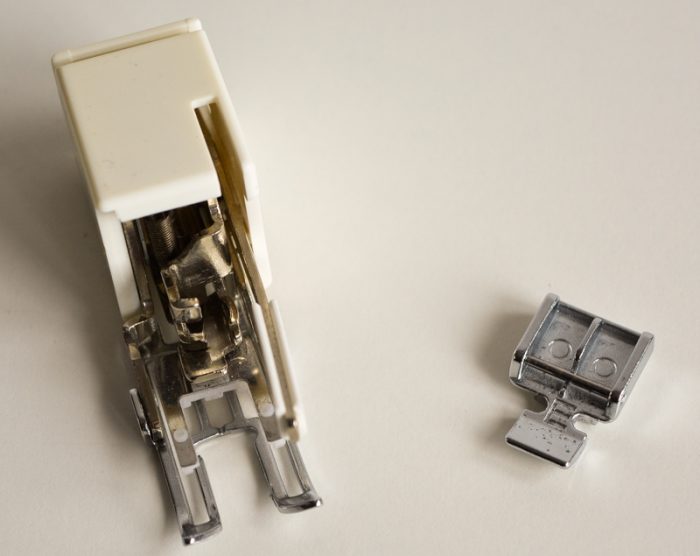 If you are sewing leather or fabric you may find a teflon foot useful, another handy trick is to put a little bit of table underneath your foot to stop the fabric gliding, always worth a try if your sewing machine is struggling.
Clover clips
These are a bit of an investment initially but I am so glad I have them – the clips hold together multiple layers of fabric. The clips hold all the layers of fabric and interfacing together, what's more they leave no pin holes – pins leave permanent holes in materials such as leather, vinyl and cork.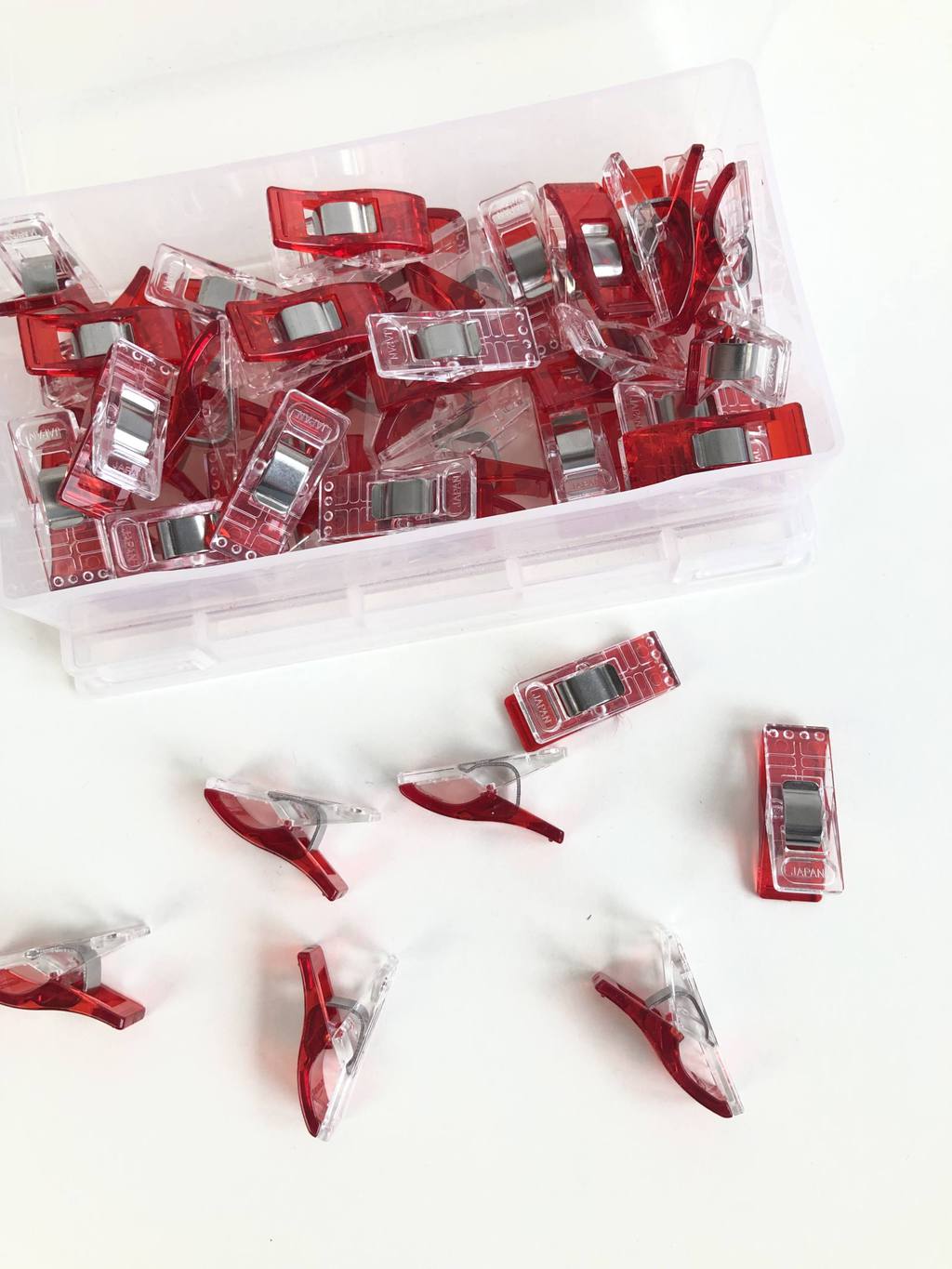 Steam Iron
Just like regular sewing pressing your seams as you sew makes all the difference to the finished result. I recommend a good hot iron with a steam function you can turn on and off as required. I like to adhere fusible fleece minus steam, but
Reducing bulk in the seams
There are a couple of good ways to reduce excess bulk when making bags. When cutting out your stabilizer cut it the seam allowance all around. Not having the stabilizer in the seam allowance makes a significant difference to the overall bulk.
When sewing curved seams notch into the seam allowance, this helps the fabric lie good and flat when turned the right side out. An alternative for curved seams is to trim the seam allowance with pinking shears.
Top stitching
This can make such a difference to the finish in a bag – it really is worth spending the extra ten minutes to finish the bag off. This is often the thickest layers of fabric for your sewing machine to cope with, so go slow, use a walking foot, a sharp suitable sewing machine needle and long stitches.
Bulky seam aid
This gadget is so useful – I've only had one for a few months but love it! It really helps your machine when stitching over bulky seams – no more skipped stitches for you! If you have not used one before check out my video for sewing denim and see just how easy it is. As you reach a bulky seam, lower the needle into the fabric, fit the presser foot, place the bulk seam under the presser foot from the back, therefore, raising the foot to the height of the seam, lower the presser foot and stitch over the seam. As your presser foot starts to lower, stop, repeat the process this time placing the bulk seam aid in front of the needle, stitch until you are over the bulky part, then remove the bulky seam aid tool.
Shorten too long zips
I frequently purchase zips from second hand craft shops – this saves money. It is really quick and easy to shorten zips, just reach for your stash of zips, shorten and get sewing.
I hope you find these top tips for bag making helpful – you will soon be sewing bags like a pro. If you are looking for free bag patterns check out my wide selection.