Pom poms are so easy to make, a perfect way to use up yarn odds and ends. But then what to make with your gorgeous fluffy pompoms?!
I have so many fun ideas to share with you, from updating your wardrobe, to home decor, to activities for children to
But first how to make pompoms? Let me share three methods with you (you will need sharp scissors for each method) :-
How to make a pompom with a fork
Let me show you how easy it is to make pom poms with wool. First grab a fork and some yarn, wrap the yarn around the fork many times.
Thread a needle with yarn, thread it through the fork and around the yarn. Tie with a double knot.
Remove the yarn from the fork, cut through the loops of yarn. This method is the best for mini pom poms.
How to make a pompom with a pompom frame
How to make a pompom with cardboard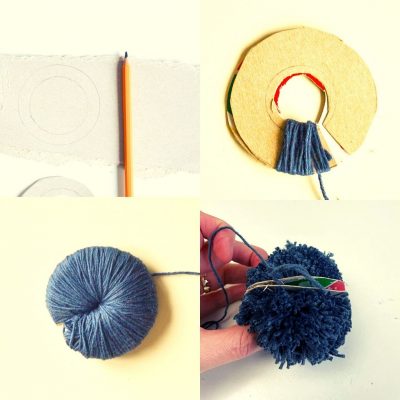 Do you remember making pompoms with donut-shapDo you remember making pompoms with cardboard donut shaped as a child? Carefully threading the yarn through the donut hole? Simply cutting a slash through the donut frame makes this method super easy, a great way to make pom poms.
Use two circular items from around your home to draw your template. Your finished pompom will be the size of the larger item. Cut your template out.
Wrap the yarn tightly around the template, until you can't fit any more yarn around the template.
Cut between the two pieces of cardboard, then wrap around through this opening between the two pieces of cardboard, pulling tight and finishing with a knot. Remove the cardboard template and trim as required.
Alternatively make faux fur pompoms.
Now you have a beautiful range of pompoms let's get crafting with these great DIY Projects!!
Pom Pom Crafts
Love making pompoms? Wondering what to do with pompoms, apart from using up scraps of yarn?!! Enjoy this list of DIY pom pom crafts.
I hope you have enjoyed this wide-ranging list of pompom craft ideas. The only question is which is your favorite pom pom craft and which pom pom project will you make first?! Enjoy your pom pom making.